People of all ages are involved in service and relief projects, giving time and money to specific ministries. The congregation regularly collects food, provides blankets, and assembles school and heath kits in response to local and international needs.
 Food For Manna on Main Street
During November and December we are collecting cans of fruit and dessert mixes for Manna on Main Street's Thanksgiving and Christmas Baskets. Drop items off at Plains Mennonite Church.
 Grocery Bags for Mennonite Central Committee (MCC)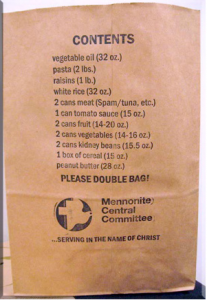 During November we are collecting Grocery Bags for MCC to give to those in need of food in Philadelphia.  Kit items may be dropped off at the church.
You can help by:
filling am empty grocery bag provided by MCC (available at Plains)
purchasing an already filled bag at Landis Supermarket in Telfor or Vernfield for $25
donating money to MCC Material Resource Center, 737 Hagey Center Drive, Unit C, Souderton, PA, 18964 – designated for "grocery project"